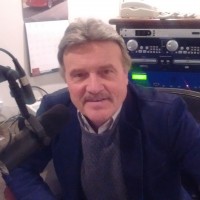 Richard Van Dam
Taking you through your midday…it's Richard Van Dam
A Q & A with Richard:
Question. So Richard, what made you decide radio broadcasting was right for
you?
Answer. Well, it actually all started way back in grade school. I was always getting
into trouble talking during class. Then, as I got older, I developed a passion for
interrupting people all the time.
Question. Didn't people find you awfully annoying?
Answer. Yes they did! In fact, I really don't have any friends; even my wife says I
talk too much. So I thought…"I should be on the radio"!!
Question. Where do you see yourself in the next, say…3 years?
Answer. I think I would like to be a speech writer for the next president of the
United States! At the very least, the press secretary anyway.
Well, good luck to you Richard in your future endeavors…you'll need it!
Thank you for your kind thoughts! But I think I'll just rely on my good looks.
Listen to Richard Monday thru Friday 10:30am to 2pm and Sunday mornings 9am
to noon on Wisconsin 106.